Since moving into our new house we've been working tirelessly to make it ours. The first two rooms were the bedroom and the living room. We are really happy with what we've achieved so I wanted to do a post to show it off! Here is what it looked like when we moved in...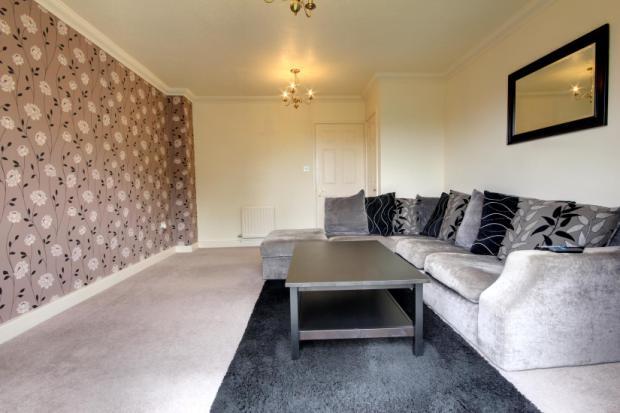 Photo from Rightmove
We basically stripped the wallpaper, painted every surface, had the carpets cleaned (we are clean freaks!), changed the light fixtures (we have a dimmer!) and added our own furniture. Here is what it looks like now...
As you can see we've gone for a dark grey accent wall with white furniture but also some wooden furniture. With the light shades, we've added a pop of mustard colour which we hope to couple with some accent pillows to finish the room.
We decided to have a two-seater and a chair on one side of the room and the TV, unit and bookshelf on the other with the coffee table in the middle of the room. The TV is up on the wall which looks super cool and I think it helps keep the room looking spacious even though we have quite a bit in there. We've also got a small dining table coming from Baker and Stonehouse for the right corner as you enter the room but that probably won't be here until July as it is a 20 week lead time!
We've added many little things to the room like candles, flowers, DVDs and books to personalise our space. We have amazing double doors which open on to the garden in which we get the sun all day so the front room is always toasty. This means we need to get some blinds which we will probably be getting soon.
As I say, overall I am really pleased with what we've achieved as we think it looks really stylish and modern but still very comfy.